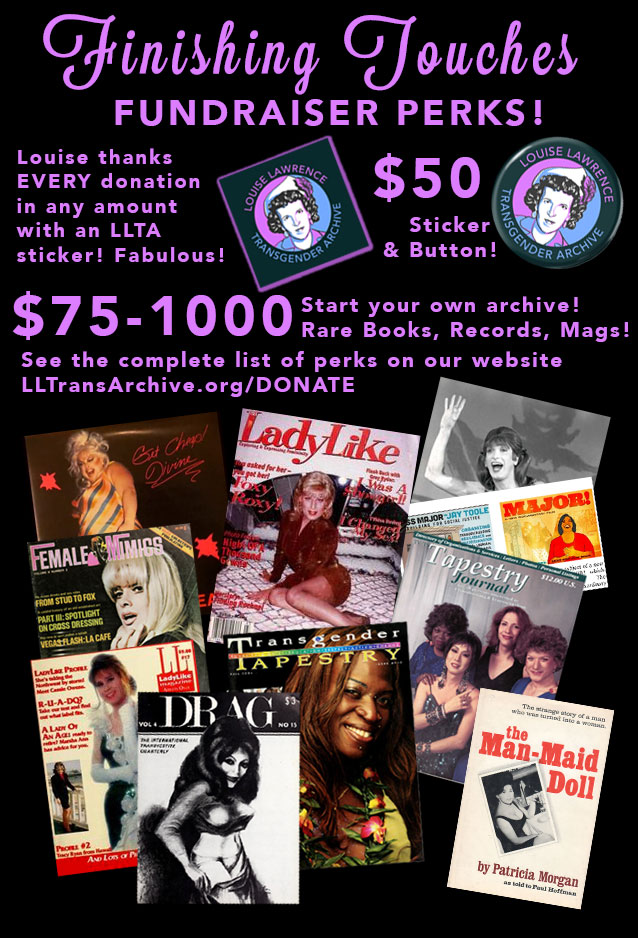 Louise knows you are giving out of the goodness of your heart and because of your commitment to preserving trans history, but some prizes for your donation can't hurt, right?
All donations will receive an LLTA sticker
$25 – LLTA Button
$50 – Sticker + Button
Additional Perks available while they last. Please specify in the PayPal comment when you make your Donation which you would like, or just email us a followup message.
$75 – Rea Bourbon record (3 available)
$75 – Divine: Born to be Cheap/The Name Game
45rpm record in white sleeve with color foldout jacket featuring four photos of Divine.
$75 – Psycho Beach Party: A New Comedy by Charles Busch
Theatrical program for the original, off-Broadway production, 1987. Made into a film in 2000. Original title, "Gidget Goes Psycho."
$75 – Lady Like magazine #17, Jo-Ann Roberts, editor, 1993
$75 – Lady Like magazine #38, Angela Gardner, editor, 1999
Influential 1990s community publication famous for, "exploring & expressing femininity."
$100 – Female Mimics: vol. 5, #4, Fall 1974
$100 – Female Mimics: vol. 6, # 2, Spring 1975
$100 – Female Mimics: vol. 7, # 2, Spring 1976
Later issues of crossdressing's first glossy-cover, standard size pictorial magazine. Published by Goldstripe/Jenifer Jordan.
$100 – If You Can't Lick 'em, Join 'em: Part One, Down to Defeat; a novelette
One of the few fem-dom fantasies published under Virginia Prince's imprint, now rare. Chevalier Publications, 1978.
$100 – The Case of Accidental Murder!
Frank, a transvestite, goes undercover as Francis to investigate a possible murder. Published under Virginia Prince's imprint, now rare. Chevalier Publications, 1970s.
$250 – Man Maid Doll
The Man-Maid Doll by Patricia Morgan as told to Paul Hoffman (one available) "The strange story of a man who was turned into a woman." Rare, hard cover 1973 trans autobiography, published by Lyle Stuart.
$250 – Her Favorite TV: no. 1
Classic little book of crossdressing fantasy, the adventures of a young, married transvestite stockbroker. Illustrated by Eneg, aka Gene Bilbrew
Published by Mutrix Books, 1960s.
$250 – Inside/out
Short autobiographies of 16 transgender people, mostly students, published in response to an assault on a transgender woman in a City College bathroom, 2004. One of only 300 first edition copies.
$500 – San Francisco Coronation 2005: Four Decades of History & Tradition.
Retrospective program book published by the Imperial Council of San Francisco, illustrated throughout.
$500 – Stilletto: vol. 7, #1, January, 2014
Published by Transgender/Intersex Justice Project for incarcerated transwomen of color. Article about Major!, the documentary about Stonewall survivor and TGI Justice founder Miss Major Griffin-Gracy. A very difficult magazine to find.
$750 – TV/TS Tapestry Journal & Transgender Tapestry
Broken run of 9 issues, #70, 72, 74, 75, 77, 78, 108, 110, 114 (1995-2008)
Widely respected publication of the International Foundation for Gender Education.
$1,000 – Drag: a magazine about the transvestite
Broken run of 10 issues, #5, 6, 7, 10, 13, 15, 16, 18, 22 & 25 (1972-1975)
Official Organ of the Queens Liberation Front
Edited by Lee G. Brewster, art direction & cover drawings by Vicky West.
The most inclusive national publication of the early trans community.